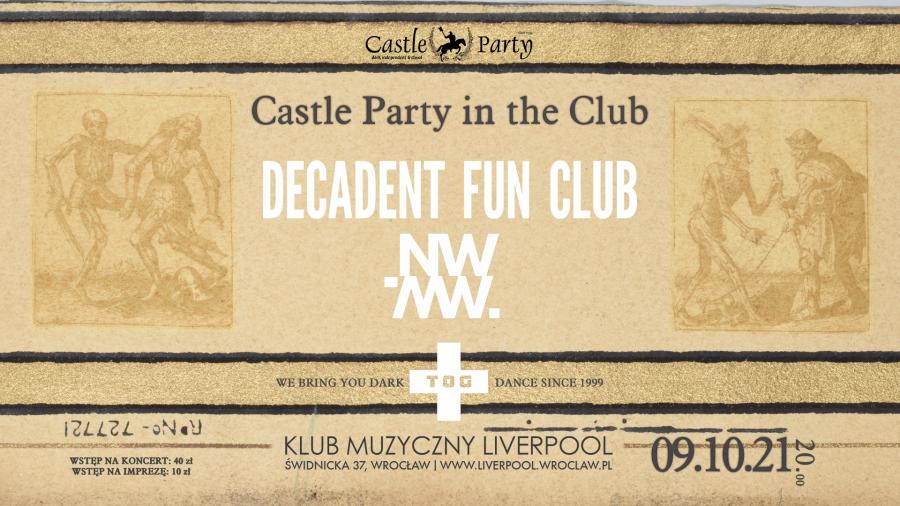 In the first information about next year's edition of the festival we mentioned some changes. We have already mentioned that there will be two equal stages without the division into the small and the big one, and now we would like to present you one more cool piece of information. The main drawback of Castle Party that you have heard so many times is that it is only once a year and you have to wait so looooong for it.
We are happy to inform you that we have found a solution!
This Saturday will be the inaugural event of the Castle Party in the Club series, which will start a regular series of club events connected with our festival. These events will take place in our official festival venue, Liverpool Music Club in Wroclaw. At these events you will be able to see and hear bands and DJs that have played at our festival in recent years or will be playing at future editions.
If you like the events, our goal is to do a second winter "mini" edition of the festival in 2023!
So once again we invite you to the inaugural Castle Party in the Club!
Castle Party in the Club
09.10.2021 | hour: 20:00
Admission:
Concert: 40 zł | Party: 10 zł
Playing:
- Decadent Fun Club
- Nowomowa
+ TOG DJ team
https://www.facebook.com/events/818030315558538/