Promo video
Lineup

Vive la Fête

Suicide Commando

Rome

In Strict Confidence: Vintage Show

NeuOberschlesien

Mesh

Diorama

A Split-Second

Frank the Baptist

Star Industry

Negură Bunget

The Angina Pectoris

.com/kill

Ľahká Múza

H.EXE

Controlled Collapse

Batalion d'Amour

Sieben

7JK

Jesus Complex

Dance On Glass

Sweet Ermengarde

Blaze of Perdition

Dark Side Eons

Orbicide

K-essence

Dividing Lines

In Twilight's Embrace

Them Pulp Criminals

Kasia Lipert

Black Tower

Ulcer

Rigor Mortiss

Postcards from ARKHAM

Fredrik Croona

more soon...
Castle Party on web
Menu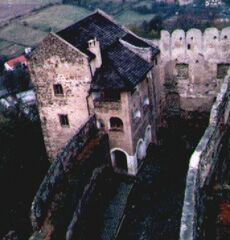 The Bolków Castle was built during the reign of Prince Bolko I. It was rebuilt several times afterwards, until it reached its final shape in the 16th century.
In all historical descriptions of the castle, its military significance is emphasized. However, it has also functioned as a cultural centre at some periods of time. It attracted people connected to arts: painters, sculptors and architects. It was also a place where Polish, German & Czech people mingled. This contributed to the emergence of the unique Silesian culture.
In 1995, Bractwo Rycerskie Zamku Bolków (Fellowship of the Bolków Castle Knights), a historical re-enactment society, came into being. Its goal is to preserve & popularize the tradition of the ancestors.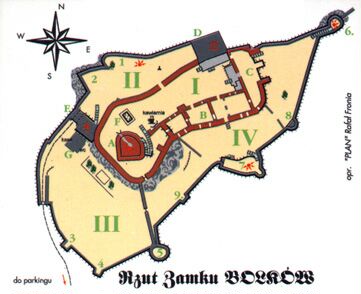 A - The Big Tower
B & C - former residential & economic part
D - The Women's House
E - The Large Gates
F - Tanker
G - Guard's House
I - Main Courtyard from 13th century
II - Big Courtyard from 16th century
III - Tournament's Courtyard
IV - External Courtyard
1 & 2 - Bastions
3 & 4 - Quadrilateral ledge for artillery
5 - Round bastion
6 - Bastion
7 - The Great Bastion
8 - Shell keep
9 - Round bastion