Promo video
Promo video 2017
Lineup

Vive la Fête

Suicide Commando

Rome

In Strict Confidence: Vintage Show

NeuOberschlesien

Mesh

Diorama

A Split-Second

Frank the Baptist

Star Industry

ABSU

The Angina Pectoris

.com/kill

Ľahká Múza

H.EXE

Controlled Collapse

Batalion d'Amour

Sieben

7JK

Jesus Complex

Dance On Glass

Sweet Ermengarde

Blaze of Perdition

Dark Side Eons

Orbicide

K-essence

Dividing Lines

Rapoon

Schloss Tegal

Vladimír Hirsch

Beheaded

In Twilight's Embrace

Them Pulp Criminals

Kasia Lipert

Black Tower

Ulcer

Rigor Mortiss

Postcards from ARKHAM

Fredrik Croona
Castle Party on web
Menu
New Castle Party compilation

As in the past few years, this time Big Blue Records is also to release a compilation including 16 tracks of the artists who will perform at this year's festival edition.
Tracklista:
01. Dope Stars inc. - Better Not To Joke
02. Atari Teenage Riot - Blood In My Eyes
03. Controlled Collapse - Scream And Shout
04. Santa Hates You - Recket Heart
05. Diary of Dreams - Echo In Me
06. The Cuts - Martwy Kwiat
07. Nosferatu - Somebody Put Something In My Drink
08. Project Pitchfork - Beholder
09. Lecter - Hidden Soul
10. Freakangel - My Darling Bullet
11. Diorama - Ignite
12. monoLight - Severed Heaven (Castle Party edit)
13. Closterkeller - Dwie połowy
14. Zeraphine - Tomorrows Morning
15. Bratrstvo Luny - Tovarny na smrt Auschwitz-Birkenau
16. Śmiałek - Vampyre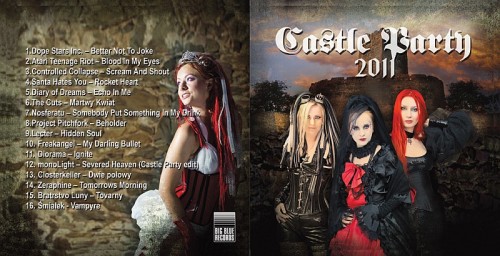 Newest comments:
XyXx



Writen at: 2011-08-01 12:27:09

Bardzo dobra składanka. Zakupiliśmy ją na Zamku. Od momentu kupna na kwaterze leciała non-stop. Podczas podróży powrotnej i w domu także. O ile poprzednie były... niezłe to ta leje je na łebek:)

Vampiria



Writen at: 2011-07-29 14:11:27

A ja już kupiłam składankę CP 2011 w piątek przy zakupie karnetu:):) Świetna składanka:)

editp3



Writen at: 2011-07-28 00:34:29

Płyta świetna, ale mi brakuje na niej Suicide Commando

Rafciu1981



Writen at: 2011-07-28 00:33:27

Bardzo fajna składanka. Od czterech dni przesłuchałem ją ze 100 razy. Jednak nie wiem jak wam, ale moim zdaniem nie wiem czy ktoś jeszcze zauważył brakuje jej czegoś. Wiecie czego? Hymm... Jednego zespołu, który dla wielu fanów Castle Party, a dokładnie klasycznego rocka gotyckiego był bez wątpienia jedną z gwiazd festiwalu - UMBRA ET IMAGO! Brak chociaż utworu na tej składnace tej kapeli boli. Jesne ktoś powie: - Chłopie wypal se ich nawet nie jedną płytę i masz UEI. Odp. Nie o to chodzi, z nimi pamiątka CP 2011 by była kompletna. p.s. przepraszam, że się czepiłem, ale chodziło to za mną. Jeszcze raz składanka super i polecam również!! Pozdrawiam wszystkich. Rafał



---

Added: 2011-07-28 00:33:27

---


p.s. Oczywiście jestem mam nadzieję myślącym człowiekiem i jak przeczytałem kto dobierał utwory na składankę to nie wyobrażam sobie, by ta osoba pominęła, albo nie chciała Umbry z pełną świadomością... Mogę przypuszczać, że zaważyły względy pewnie prawne i zobowiązania kontraktowe zespołu Umbra Et Imago!

Krzysztof Rakowski



Writen at: 2011-07-04 16:52:09

Tak jak już zostało to napisane, najpierw płyta będzie do dostania na festiwalu a póżniej bedzie dostępna w sklepach:)My mamy ją zawsze w promocyjnej cenie:)

kitek



Writen at: 2011-07-04 07:05:07

Na pewno w trakcie festiwalu, ale i w Media Marktach bywać powinna (przynajmniej ta z 2010 była) (choć troszkę drożej).

elvin101



Writen at: 2011-07-04 00:54:32

Ładna składanka trzeba przyznać a kiedy będzie można tą płytę zakupić?